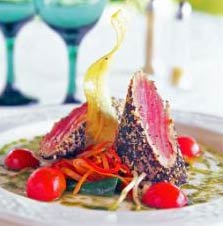 Barbados is a great destination if your need warming up this cold, chilly winter. Arriving at Grantley Adams airport, you're knocked back by the heat, cooled down by gentle breezes and the friendly people. You can't believe you're here, such an easy journey. 
Thirty minutes from the airport, via a scenic tree-lined route, past sugar cane fields, coconut stalls, chattel houses, arrive at Coral Reef. The island-chic family owned Colonial plantation type hotel, originally built as a private estate, is a delight. After five months of work a fabulous spa now sits in splendour in what was once part of the lush gardens. It's obvious no trees were sacrificed, owner Mrs Cynthia O'Hara is a hands-on gardener, who knows every plant and flower of the 12-acre gardens, (12 gardeners one for every acre darling) by name.  
Coral Reef Spa is designed by Helen Green, British interior designer, of www.helengreendesign.com , Green's signature style combines a contemporary look with classic charm. Also working on the concept, brilliant spa consultant Neil Howard whose in-put is also on Armani hotels, Dubai and Milano,The Dorchester, London.  
The colonial style airy wooden space is built around lush private gardens with an indoor-outdoor relaxation area overlooking a hydro-pool. Shaded cabanas are ideal to chill-out, with an infusion, after treatments, either for one, couples or friends. There's a thermal suite with "experience" shower and each treatment room has its own lush private garden terrace.  
"We think it's paradise, says spa-manager Patricia Lee Mouttet, whose family emigrated from Marseilles to the Caribbean ages back. "Urban living means you store so much stress in your body, you need to detox from time to time. We will help you eliminate all traces of the big city", she promises. 
The products, by Natura Bissé, include Diamond Line claimed to be the most luxurious, anti-aging creams in the world. And, of course, because there are so many local herbs, plants and fruits there's signature massages with appropriate products, say, Caribbean Calm and Muscle Melt Massage, the signature Lemongrass and Ginger rub, or Pineapple Coconut crème brulée scrub. And, in the Coral Reef Bar, the barman creates matching cocktails, for your significant other as he waits patiently for you. He can sip Mojito Magic or All Spice shine in the private garden. If he's had too many rays, treat him to Sunburn Soother, when Keisha or Lisa will apply cool lavender infused compresses, then an aloe skin relief remedy to soothe and encourage new skin cell growth. 
What about the Coral Reef rooms? 
Choose from 88, cottages, suites and villas, some with private pools,according to your budget. At Coral Reef and The Sandpiper (the O'Hara's other hotel, just next door) you spend lazy days drifting from gorgeous perfectly decorated rooms to the pool, to the beach, the restaurant, or next door to The Sandpiper. Where's the action? There's plenty of watersports, a high-tech gym, golf, tennis, sailing, kayaking, snorkel a bit. Just to give you an appetite for Executive chef Graham Licorish's fabulous lunch-time buffets, Bajan Buffets, afternoon teas and mouthwatering dinners. The cuisine has a classic Caribbean charm as in Southern Indian Pumpkin and Roast Coconut Soup, Cumin grilled sea scallops and the local catch of the day such as Blue Marlin. Tea Smoked Duck Breast is paired with crushed sweet potato, poached pears and Blueberries and Red Snapper spiced and blackened with Creole beans and Chilli Verde. Or go really local with a West Indian Meat Curry. Lots of dishes for veggies: Gateau of Wild Mushrooms with Parmesan Crackling. Dessert could be Eton Mess with fresh strawberries or Cherry Pie and home-made ice-cream.  
Small Luxury Hotels of the World
Doubles from $465 per night based on two sharing.
T: +246 422 2372 
Meanwhile back in Paris Nicholas Rebot, Chef Sommelier at the Hotel Le Meurice, takes you on a wine tour of France and you don't even have to leave the comfort of the hotel.
He calls them "Nocturnes" tastings of 4 wines with, for each, canapés created by super-chef Yannick Alleno. 2nd April Grands Blancs d'Alsace. 7th May Loire Valley Wines
4th June Provence wines 3 September Burgundy 5th November Wines and white truffles
3rd December Grand Cuvées de Champagne. See you there.
Les Nocturnes du 228
Hotel Le Meurice,
228 rue de Rivoli, 1st
T: 01 44 58 10 66
From 90€