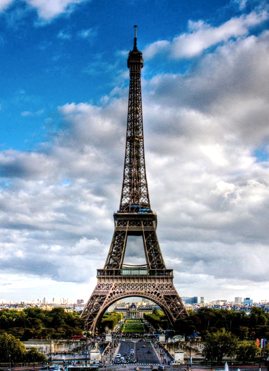 The Eiffel Tower in the 7th arrondissement is the world's most famous monument and the most famous landmark in Paris. The hearty like to climb up to the very top; others take the elevator or stay below to view the working gears. Temporary exhibits come and go'"see the website for the current exhibition. Dining at the exclusive Jules Verne restaurant managed by celebrity chef Alain Ducasse is an international destination for culinary travelers; others can enjoy the more casual restaurants or Champagne Bar at the top. But universally all enjoy the sight of this 1,023-foot-tall landmark built for the Paris World's Fair in 1889. By the way, imagine this: every seven years the Tower is painted with 70 tons of special brown paint that keeps rust away.
You'éll probably want to get to the top first and, although you don'ét get the best views of the Eiffel Tower from the very top, brace yourself for long queues of other travelers eager to take in the spectacular views of the city below. To make the most of your time in Paris, consider ordering tickets in advance online (please note, stair entrance tickets are not sold online) or plan to arrive before the tower opens to skip the long lines that may have you waiting for hours during peak season.
Before heading out, if you intend to go up high on exterior viewing decks, check the local weather report to confirm the Tower's upper levels aren'ét closed because of high winds. Interior restaurants will be open regardless of weather. When you'ére ready to go, remember to pack light: large bags are not allowed and there is no bag check. Expect security bag checks at the world's most famous landmark. Be prepared to hike 1665 steps up to the first and second floors; the are three elevators that can take you up to the second floor for a fee. The very top of the Tower is only accessible by the elevator to the Champagne Bar.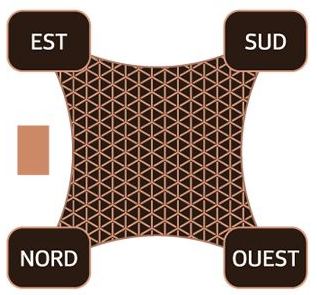 At the base of the Tower expect a sea of humanity during peak season or nobody at all off-season. There will be independent (and illegal) guys selling souvenir toys; it's up to you if you wish to buy from them, but do not flash cash under any circumstances. Pickpockets are of course working the world's most popular tourist attraction; stay in "street-smart mode" and probably nothing will happen to you. Here's a helpful article about Safety When Traveling in Paris.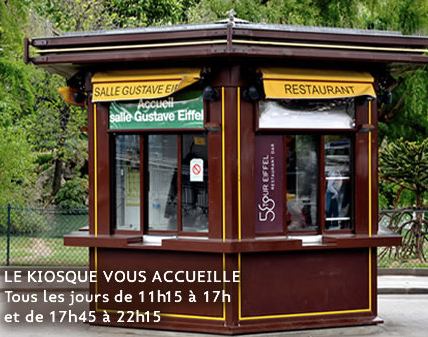 Services:
Sales kiosk: Buy elevator tickets at the booth between the North and East Pillars.
Public Toilets: Ground level: with your back to the Seine, look on the left between the North and East Pillars near the ticket sales kiosk. Chances are good that there will be a long queue. Another public toilet up on the first level observation deck. Restaurants have restrooms for their guests. If an attendant is on duty, you may tip a few centimes. If you prefer, walk toward the Seine and use one of the green automatic toilets for free. Be advised that these are used often and may not be for the squeamish.
ATM: There are 2 ATMs below the Tower but to be safe, avoid using an ATM here if at all possible.
Post Office: Want to mail a postcard with an Eiffel Tower cancel mark? There is a post office on the South Pillar open to the public from 9:30am-6pm and during peak tourist season from 9am-11:45pm (mid-June to late August).
Eiffel Tower

restaurants:

All offer essentially the same view, the main difference: cost. Prices shown are for 2011. Click to view restaurants brochure.

Open 9:30am-11:30pm
On the first floor is a snack bar, with packaged sandwiches, salads and pizza sold by the slice. Pay at the counter, stand at a counter. Inexpensive for Paris, items start at 7.50€. This is where you grab a water and a light snack.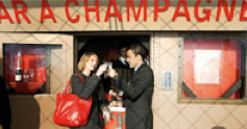 Hours: 12-10pm
Buy your ticket for access below in the kiosk beneath the Tower (see map above). You'll be at the very tip top of the Eiffel Tower, which is great! A glass of Champagne costs 10-20€. Unfortunately, it is served outside from what looks like a "snack bar" window, which can be a bit of a let down.
In the day this is a self-serve restaurant; at night it is a brasserie on the first floor of the tower.
Casual lunch 11:30am-5:30pm: Pre-packaged food purchased at a counter; it's casual and adequate for families with children. They have a fixed-price combination plates starting at 18€ but you may buy separate items if you prefer without much of a cost savings. No dress code and very traveler-friendly. See photos below.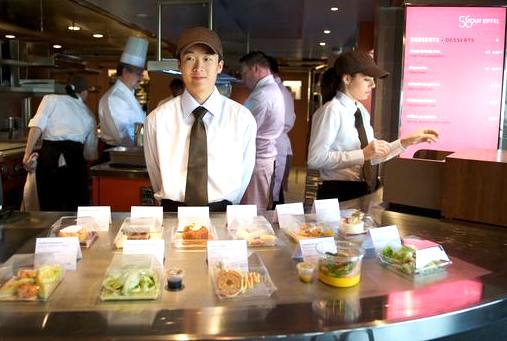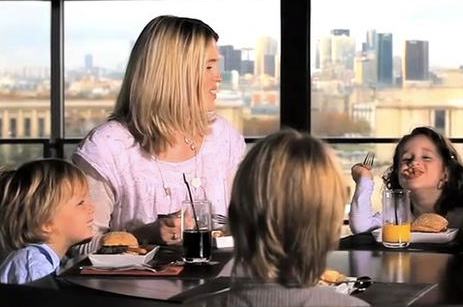 Dinner Two seatings:  6:30pm and 9:30pm with advance reservations highly recommended. Fixed-price dinners start at 67€ per person, without wine, which can add significantly to your tab. You will pay an additional fee to ride the elevator up. The lights are dimmed to create a brasserie with wonderful views over Paris. Dress better than you would for sightseeing. The posted dress code of "Dress correct" may seem vague to visitors, but essentially: No tennis shoes, shorts or overly casual sportswear. Some can pull off wearing black jeans; only you know if your designer jeans are dressy enough to pass French dress codes. Gents would not be out of place in jackets; U.S. "office casual" is the minimum acceptable. Women tend to dress up a bit. Bottom line: if in doubt, dress up as the French tend to do. Reservations recommended. See photos below.
This is the world-famous restaurant on the second floor and when people speak of dining at "THE Eiffel Tower restaurant," chances are they are referring to what's commonly called "le Jules." Celebrity chef and restaurateur Alain Ducasse manages this restaurant, along with his international collection of Michelin-starred restaurants.
Reservations: A must and as far in advance as possible. If a birthday or anniversary, say so and chances are good you will receive special treatment. If a marriage proposal is planned, let them know so they can make the moment even more memorable. If you cannot get a reservation, you can hire a private concierge to help or, if lucky and if time permits, perhaps your hotel concierge can help.
Access: Take the private elevator up; find it at the South Pillar. After your meal, you may walk the stairs higher without paying additional access fees.
Dress code: "Office casual" at a minimum for lunch; do dress up for evening and gents should wear a jacket, but no tie is required. Business dinners are held here, so you'll see some guests wearing office attire. After dark some men can pass wearing a dress sweater, others wear tuxedo jackets. Women tend to go dressy, but if you're traveling light, a black pantsuit with accessories such as scarf or nice jewelry works. You'll have your reservation before you travel and should be prepared for this experience.
Seating: Expect you may not get a premium window seat. You may be placed on a banquette (bench) near other diners. If this matters, be very clear in requesting this at time of reservation.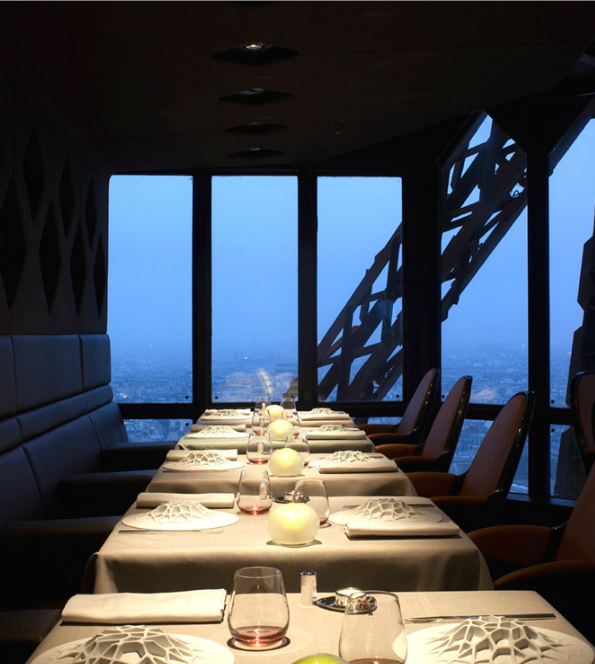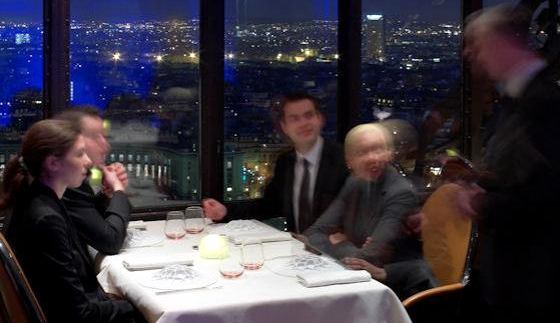 The food: Authentic French modern and imaginative gourmet French entrees made by top chefs who use top-quality ingredients. Yes, it's okay to take photographs of the food, the view and when the waiter isn't busy he will even take your photo with your camera, if you ask.
The experience: Relax, take your time to enjoy a multi-course experience. The hosts, waiters and sommelier speak English and they will explain menu items. The sommelier will offer wine or Champagne just right for every course. If budget is a concern, say so and they'll work with that'"you will not be the first or last.
Lunch fixed price menu: 85€ without wine, more on weekends and bank holidays. And, yes, this considered a fair deal in Paris, one of the most expensive cities in the world. You may order from the regular menu, but the prices may floor you. After your lunch, move to the pleasant bar to enjoy your dessert and coffee with a view of the esplanade below called Champs-de-Mars. The advantage of lunch, besides cost savings, is the view of Paris landmarks below you.
Dinner fixed price menu: 200€ without wine, more on weekends and bank holidays. Again, you may order from the regular menu, but only if 65€ ++ for your appetizer and much more for dinner and dessert isn't a concern. The fixed-price dinner menu is a very good value considering the combination of Alain Ducasse standards, Eiffel Tower, view over Paris and you're dining at THE Eiffel Tower!
Stick around to watch the tower come alive with twinkling lights at the top of the hour from from dark to midnight or later on weekends and certain holidays. The best place nearby place to watch is just across the Seine at Trocadéro.
About the author:
Dali Wiederhoft is the executive editor of BonjourParis and a lifelong francophile. Forgive her but she is not a foodie; still, she recalls in detail several memorable meals at le Jules Verne and often walking out of her way to catch a glimpse of le Tour.
PRACTICAL INFORMATION
Digital restaurants brochure
Champ de Mars
Quai Branly, Paris 7th
Tél: 01 4411 2323
Métro: Line 6, Bir-Hakeim or Dupleix; Line 8, Ecole Militaire; Lines 6 or 9, Trocadéro across Pont I'éna (bridge)
RER: Line C, Pont de l'Alma or Champs de Mars-Tour Eiffel
Buses: 42, 69, 72, 82, 87 to Champs de Mars
Vélib': 07025 Suffren Tour Eiffel, 2 avenue Octave Creard
2011 hours: 9:30am-11pm. Summer: 9am-midnight.
Admission: Elevator: 13.40 € adult, 11.80 € ages 12-24, 9.30 € ages 4-11, 9.30 € handicap accessible, 0 € babies-4 years.
Stairs: 4.50 € adult, 3.50 € ages 12-24, 3 € ages 4-11
Accessibility: the plaza beneath the tower is completely accessible. There are elevators to ascend.
Photo credits:
Eiffel Tower ©Kumar Navaneethakrishnan
All other photos from Eiffel Tower and Alain Ducasse publicity materials